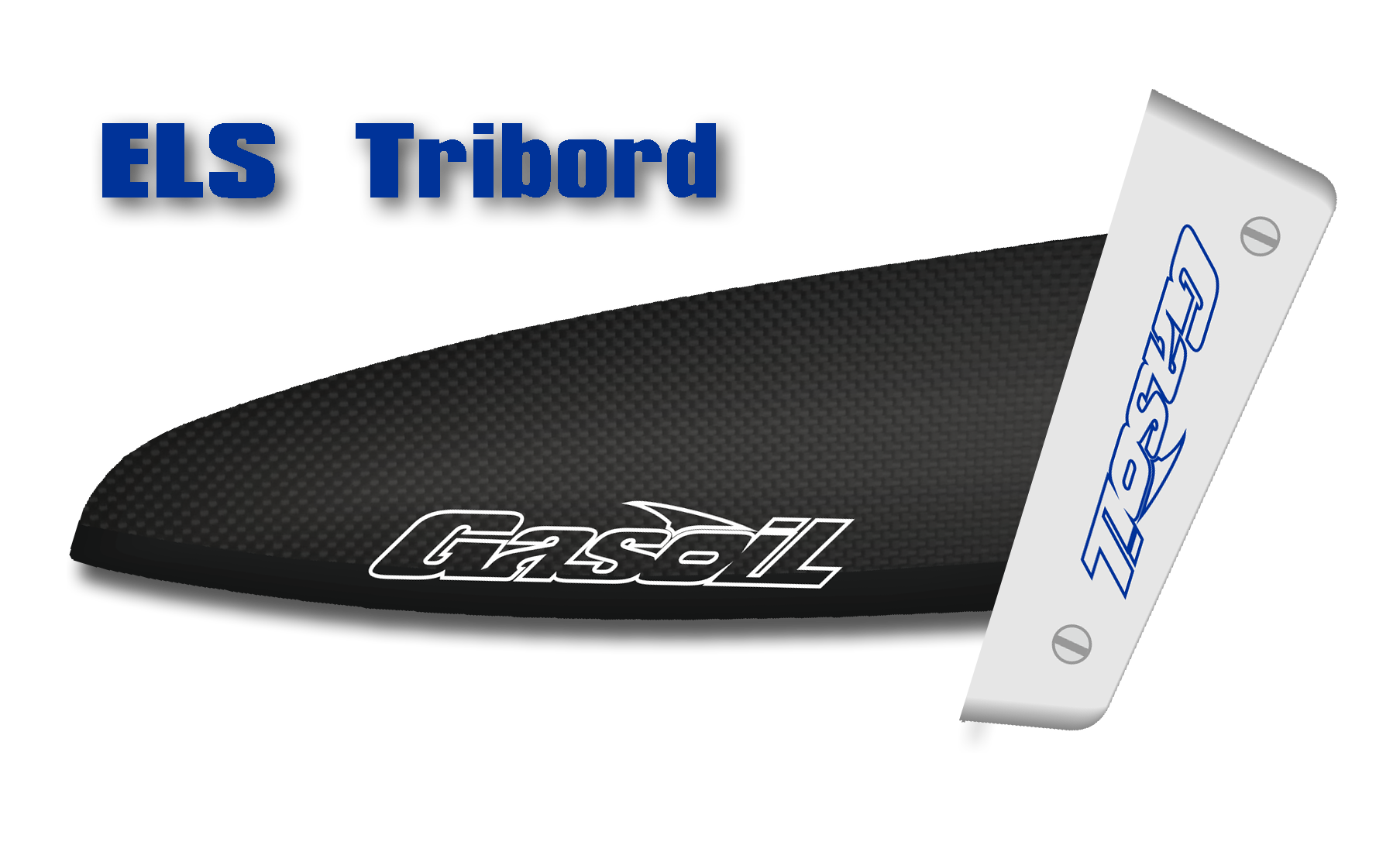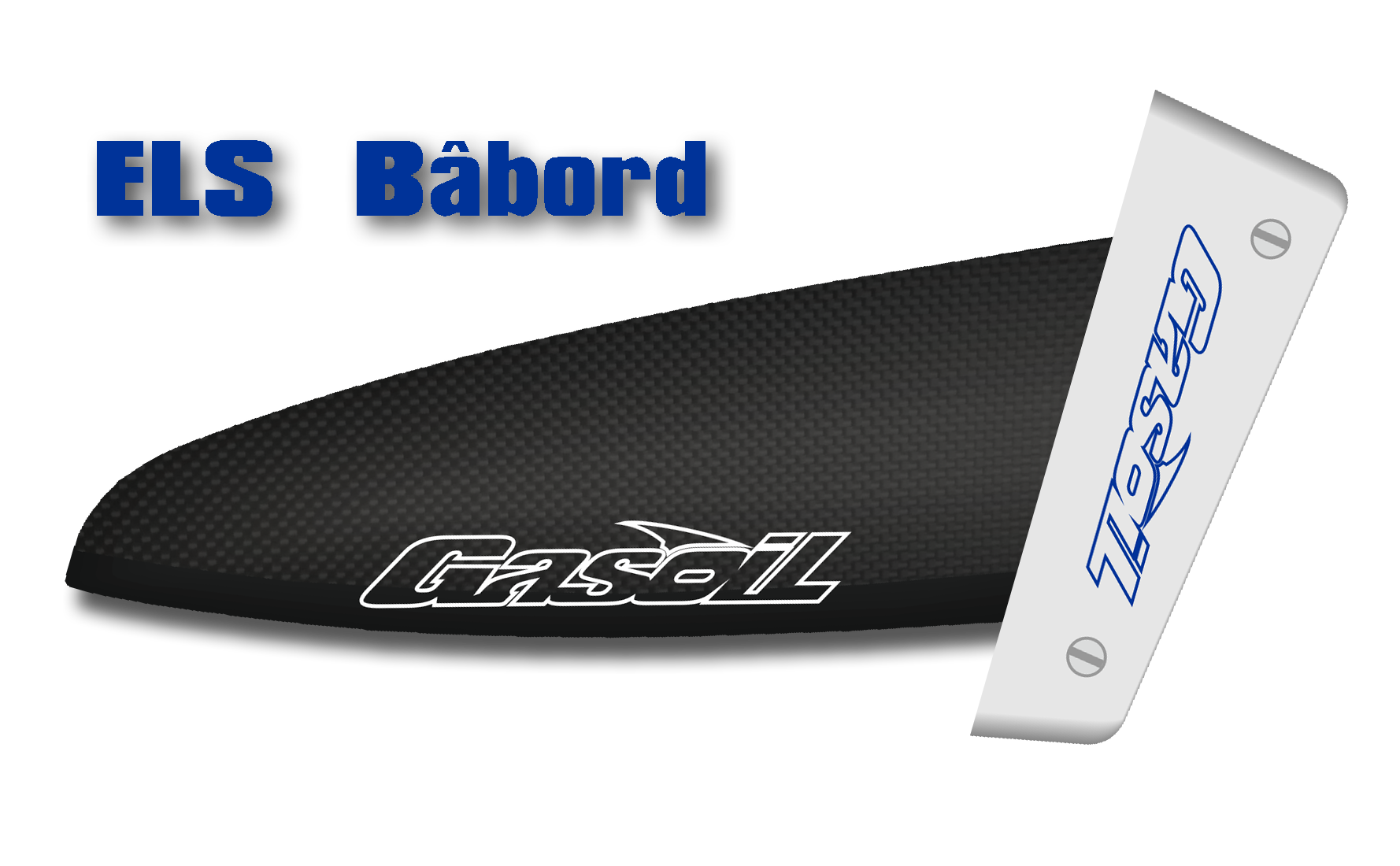 Ailerons asymétriques tribord spécifiques créés pour le speed. Développés pour les accrocs du speed, le rendement est excellent. Les appuis malgré les petites tailles restent très fiables.
Starboard asymmetric fins specifically designed for speed. Developed for speed addicts, the performance is excellent. The fin, despite the small size, is very reliable.
Les spin-out sont rares, et inexistants avec des pilotes chevronnés. Le run se déroule sans mauvaises surprises, et l'aileron permet d'accélérer sans arrière-pensée.
Spin-out are rare, and non-existent with experienced pilots. The run is without surprises, and the fin allows you to accelerate without thinking twice.
Le retour sur le bord « non optimisé » reste moins facile qu'avec un aileron symétrique, mais possible.
The return to the "non-optimised" side, after the run, is less easy than with a symmetrical fin, but possible.


Les ailerons sont facilement identifiables, grâce à l'insert de couleur sur le talon. Tribord, c'est vert, bâbord, c'est rouge.
The fins are easily identifiable thanks to the coloured insert on the box. Starboard is green, port is red.
Programme :
Nous sommes à l'origine de ce modèle créé en 2010, qui a conquis l'ensemble des compétiteurs mondiaux et ensuite influencé l'ensemble de fabricants d'aujourd'hui. Dés les premiers essais les chronos affichaient des performances de 3 à 4 nœuds plus vite que tous les ailerons disponibles sur le marché de l'époque. L'idée de créer et de rendre accessible à tous un aileron avec un profil asymétrique a permis d'augmenter le rendement et donc de réduire les longueurs de façon considérable.
Les résultats ne se sont pas fait attendre. Tous les coureurs de la planète l'ont adopté. Dans l'année 2012 Anders BRINGDAL a été le premier homme à franchir la barre de 50 Nœuds sur une planche de windsurf, Antoine ALBEAU améliore son précédent record de quasiment 3 nœuds et s'empare du record du monde de vitesse en windsurf (52,05 nœuds sur 500m) avec un ELS 18 Tribord.
Il faut aussi prendre en compte le record du monde féminin et une quarantaine de records nationaux dans la même période. C'est sans nul doute l'aileron le plus primé qui n'ait jamais existé.
Program :
We are the originators of this model, created in 2010, which has conquered all world competitors and subsequently influenced all manufacturers today. From the first tests, the times displayed performances 3 to 4 knots faster than any fins available on the market at the time. The idea of creating and making accessible to everyone a fin with an asymmetric profile allowed for increased efficiency and therefore considerable reduction in lengths.
The results were not long in coming. All riders on the planet adopted it. In 2012, Anders Bringdal was the first man to break the 50 knots barrier on a windsurfing board, Antoine Albeau improved his previous record by nearly 3 knots and set the windsurfing world speed record (52.05 knots over 500m) with an ELS 18 Tribord fin.
The women's world record and around forty national records during the same period should also be taken into account. It is undoubtedly the most award-winning fin that has ever existed.

Question profil :
VITESSE avant tout. L'aileron le plus fin du marché. Ce profil aux courbes tendues permet une glisse exceptionnelle, mais aussi des appuis et une fiabilité sans failles.
Deux versions sont proposées en profils asymétriques (Bâbord ou Tribord ) La première est optimisée pour les runs « carrés » soit des vents orientés aux alentours de 90° et une version plus fine avec un extrados aux courbes plus tendues pour les runs très abattus à plus de 120°.
Profile considerations :
SPEED above all. The thinnest fin on the market. Its tightly curved profile allows for exceptional glide, as well as unwavering support and reliability. Two versions are offered in asymmetric profiles (Portside or Starboard). The first is optimized for "square" runs, i.e. winds oriented around 90°, and a finer version with more tightly curved upper surfaces for runs at angles of more than 120°.
Tailles disponibles en cm / Available sizes in cm
16 à 25 / 16 to 25

Dureté disponible / Available hardnesses
Dur / Hard

Boitiers disponibles / Available boxes
Tuttle


Pour commander ou nous contacter, merci d'utiliser le formulaire ci-dessous
To order or contact us, please use the form below