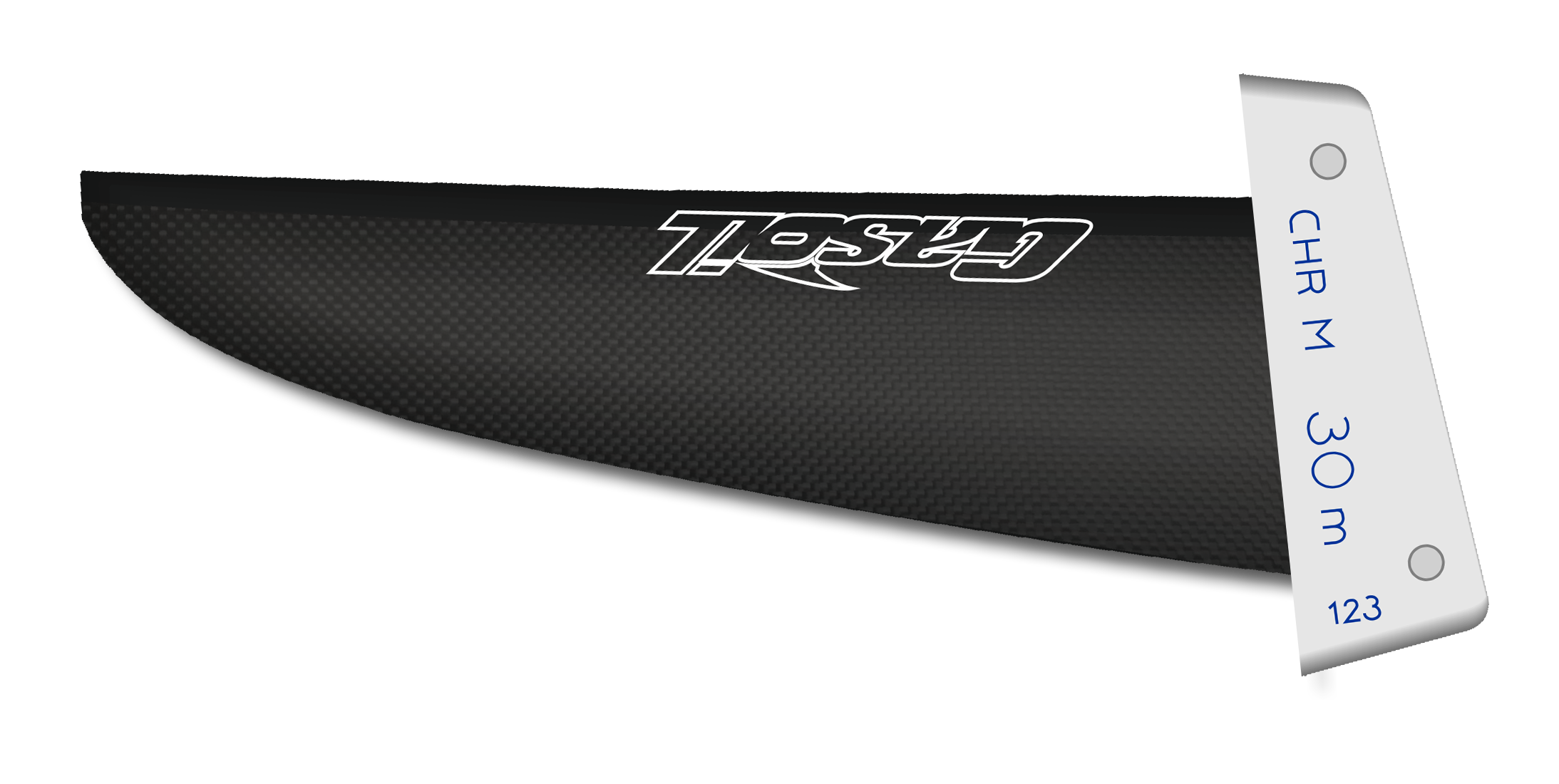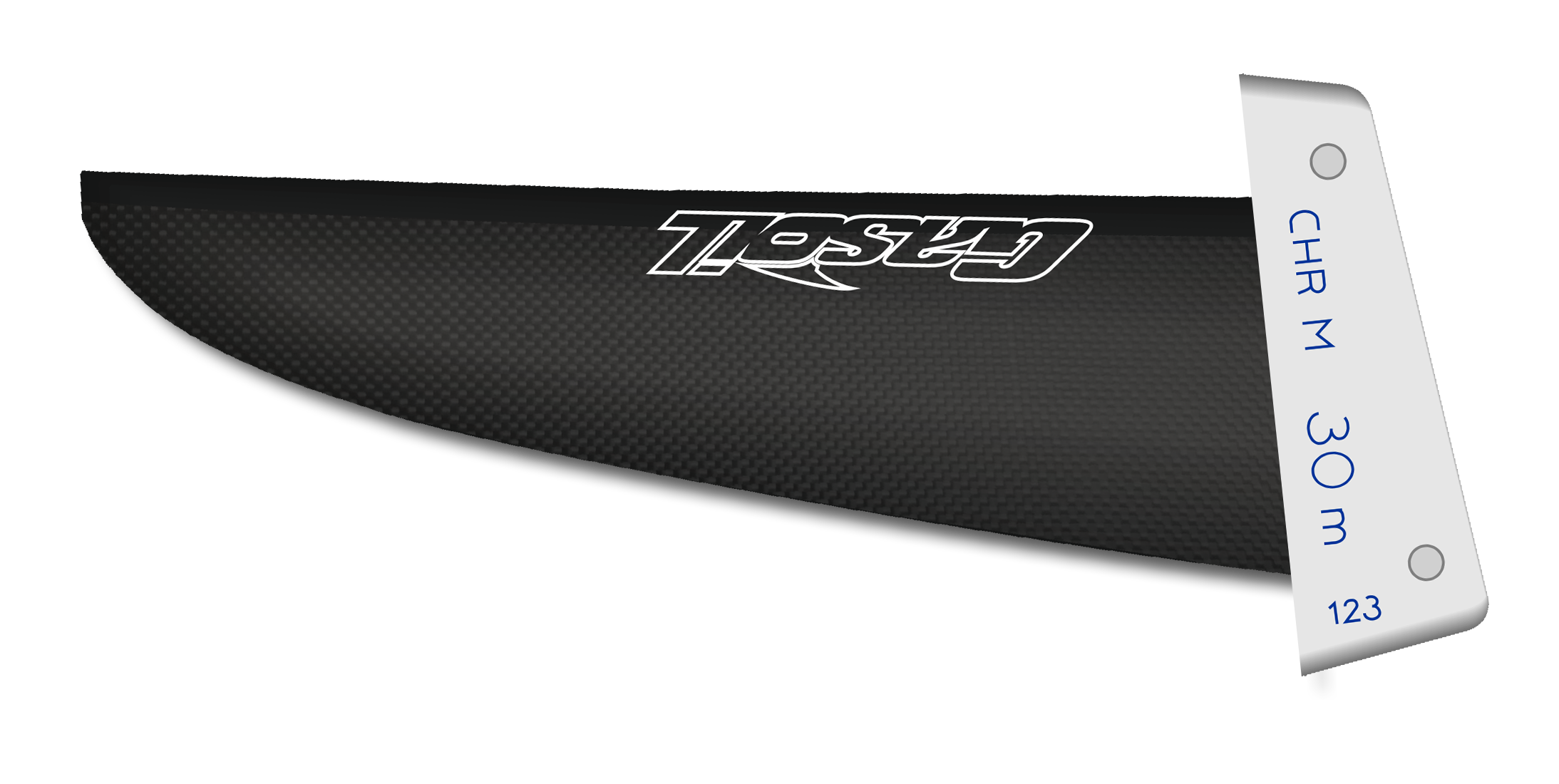 Un aileron de vent établi pour le slalom dans une mer formée et les longues distances. L'aileron est élargi à sa base, avec une chute droite, il s'affine vers le bas. Le centre de poussée de l'aileron remonte d'où un comportement plus stable et plus doux. Les amateurs de speed et de speed challenge sauront l'apprécier à sa juste valeur.
An established wind fin for slalom in heavy seas and long distances. The fin is widened at the base, with a concave drop, and tapers downwards. The centre of thrust of the fin rises, resulting in a more stable and smoother ride. Speed and speed challenge enthusiasts will appreciate it.
Question profil :
VITESSE / ACCESSIBILITE : Le CHR M est un peu plus ample sur l'avant du profil ce qui le rend plus facile d'accès au démarrage. La pointe de l'aileron est dotée d'un ratio d'épaisseur inférieur pour une meilleure glisse mais aussi pour une tête plus mobile ce qui permet évacuer la surpuissance. La base de l'aileron a été renforcée dans les grandes tailles (profondeur 45 et plus) afin d'améliorer la solidité et l'usage à long terme de l'aileron.
Profile considerations :
SPEED / ACCESSIBILITY: The CHR M is a little wider at the front of the profile which makes it easier to access when launching. The tip of the fin has a lower thickness ratio for a better glide but also for a more mobile head which allows to evacuate the overpower. The base of the fin has been reinforced in the larger sizes (depth 45 and above) to improve the strength and long term use of the fin.

Programme :
Le CHR M adoucira votre planche de course sur des plans d'eau difficiles dans le vent fort. Des jibes, et manœuvres avec des courbes plus gracieuses. Des appuis, des retours de puissance moins violents. Il procure un meilleur contrôle qui permet d'aller chercher de très bonnes vitesses.
Convient aussi parfaitement aux planches de programmes intermédiaires de type freeride.
Program :
The CHR M will soften your racing board on difficult waters in strong winds. Jibes and manoeuvres with more graceful curves. Less violent power feedback. It provides a better control which allows to go for very good speeds.
Also perfectly suited to intermediate freeride boards.
Tailles disponibles en cm / Available sizes in cm
22 - 48
(Tailles idéales / Ideal sizes : 28 à 38 cm)

Duretés disponibles / Available hardnesses
Souple - Moyen - Dur / Soft - Medium - Hard

Boitiers disponibles / Available boxes
Tuttle jusqu'à 40 cm / up to 40 cm
Deep Tuttle à partir de 41 cm / from 41 cm

Garantie / Warranty
2 ans / 2 years
Pour commander ou nous contacter, merci d'utiliser le formulaire ci-dessous
To order or contact us, please use the form below